News
Valanka celebrates 30 years
05.03.2019 11:18
Valanka celebrates 30 years of existence in these times. On the occasion of this anniversary we decided to hold a festive memorial concert, which will take place at the Dobruška cinema on Sunday, April 8, at 5 pm.
For a poster, see the Download section.

Valanka on the festival in Zbraslav
11.10.2016 19:54
Valanka has participated on the competitive festival Vejvodova Zbraslav on the 23th of September, where Valanka obtained the golden belt, which is the highest award. Official award is placed in section Downloads.


Calendare
<< | May 2023 | >>
W
Mon
Tue
Wen
Thu
Fri
Sat
Sun
18
1
2
3
4
5
6
7
19
8
9
10
11
12
13
14
20
15
16
17
18
19
20
21
21
22
23
24
25
26
27

28

22
29
30
31
About the band
Band Occupation | Valanka Offers | Sponsors
Brass band Valanka has arisen in 1986-1987. Valanka is an musician association since 2002. Václav Pavel was elected as a chairman and director of Valanka.
Valanka had reached wide range of interesting success. In 2001 Valanka recorded first CD "Písničky Čechů v Chorvatsku" with popular song in adjustment of Miroslav Císař. In 2000 and 2003 Valanka advanced to the finals in Polkafest competition and also got the price of audience sympathy. In 2013 Valanka finished recording of new CD "U nás v Podbřezí". This Album contains several authorial compositios of Valankas trumpetist Petr Ryšavý. CD also contains many compositions with text written by Miloň Čepelka who is cooperating with Valanka since 2011. Recently Valanka also succesfully play behind the borders of eastern bohemia and regularly go to tours in Holanf Croatia, Austria, Hungary and Poland.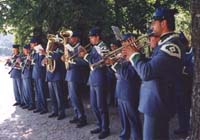 The repertoire of Valanka is ey wide from the typical brass music, adaptations of popular songs, or genres like swing, dixieland or hits of 70's. Valanka offers typical concerts, christmas concerts, variety shows also complemented by rich accompanying speech. Valanka also play to march and to dance.
Brass band VALANKA play in contribution of the Podbřezí village.
In refer to growing complications caused by the simillar names of two indepeded bands, We declare that Valanka and Valánečka are two independed music subjects.